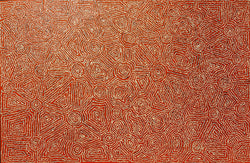 Ninbella
George Ward Tjungurrayi "Tingari Cycle (2008) #2"
200 x 132 cms. Acrylics on Linen Canvas. George Ward has won many awards, including the prestigious Wynne Landscape prize in 2004. He is one of the greats of the Australian Aboriginal Art world, and is respected and collected all around the world. 
COLLECTIONS: Groninger Museum, Holland, Supreme Court of the NT, Darwin, The Robert Holmes A Court collection, Perth WA, The Kelton Foundation, Los Angeles, the National Gallery of Victoria, Art Gallery of NSW, and in Musée des Arts d'Afrique et d'Océanie, Paris.